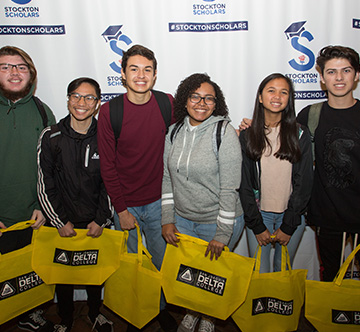 COVID-19 RESOURCES FOR STUDENTS
The Stockton Scholars team is currently open and operating remotely due to COVID-19. We are committed to supporting our students during this time and will continue to update this page throughout the remainder of this health pandemic. Please use this page to navigate to different local sites and resources that are currently available to high school and college students from Stockton. For additional assistance, please email help@stocktonscholars.org immediately!
We at Stockton Scholars continue to remain committed to ensuring that all of our students are safe, healthy and connected during the Covid-19 pandemic. Stockton Scholars has established an Emergency Fund for the purposes of supporting our scholars attempting to get through this unprecedented and challenging time.
Please apply indicating what your specific need(s) are. We will process your request for support at the end of every month. Finally, we recognize this has been a difficult time for you and your loved ones and welcome you to contact us directly should you have any additional questions about the Emergency Fund or wish to learn about additional resources we have available. Please contact us at help@stocktonscholars.org or call our team at 209-800-8780 for more information.